The Perfect Bartender
The Perfect Bartender By Scott Martiny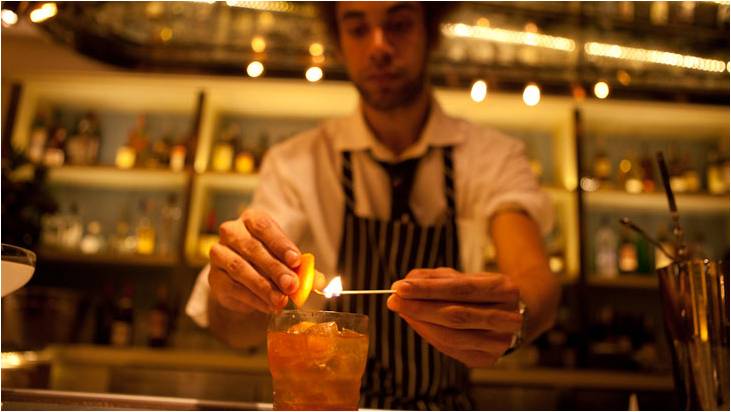 We've all sat there sipping a drink we know had extra liquor value in it, or looked at the check when the time came to pay a bill and noticed drinks we did not get charged for. Did you think someone decided to have this happen or perhaps it was just a mistake? What choices do you make as a customer when these gratuitous events come along? An interesting study recently uncovered facts about what really happens when the customer gets a heavy pour or free drink.
The data says customers want drinks to taste right and don't want their fun time shortened by overpowering servings of liquor. Today's customers are more conscious of where they are in terms of intoxication.

They don't go to bars to binge drink. They go to have fun and relax. When mixologists work hard developing interesting cocktails and a guest decides to give one a try, what is the point of drowning all of the flavoring juices and creams and liquors with an extra sized portion of the centerpiece vodka, gin, tequila, etc?
Customers who order liquor poured "on the ROX" or "Up" or drink wine by the glass, are going to be aware of an extra sized serving. Taste is not really affected. But a bartender, who pours a 4.5oz Glenlivet and follows it with a 3.2oz second Glenlivet, has just served the customer 7.7oz's of scotch. The customer can't drink another and feel in control of themselves, so they leave. If the standard for ROX was 2oz's, the bar lost 1 if not 2 drinks worth of revenue and the bartender the corresponding tip on that revenue. Yes this customer saw the extra liquor in their glass. But, do they see that as a gift from a bartender or server? Not necessarily. 68% of customers given a first ROX serving of 2.5oz's and then a second of 3.5oz's, felt the first drink was short instead of the second being a "special value". The percentages are far worse when a customer observes someone else getting that 3.5oz ROX serving. Have you ever watched a glass of wine served to another with a lot more wine in it then the one you just got? Was your conclusion someone else was getting extra value, or that somehow you got shorted?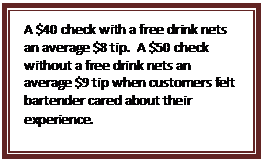 Veteran bartenders/servers know the way to the most tip income is to pour drinks consistently at standards and in accordance with recipes. And go after that 20% tip by being personable and caring about the customer and experience they are having in the establishment.
When it comes to free drinks the data is also interesting. We've all sat there when served a beverage at the bar and the bartender says "its on me". It is a feel good and nice to be recognized as a good customer. But have you ever sat next to someone else who got that treatment? How did you feel, given you did not get a free one? And the data shows the special treatment does not dramatically affect the tip%. What is the upside if it lowers the net tip income of the bartender?
It turns out there is upside to a free drink, but it's not what you might think. In a service or execution breakdown situation, a beverage comp is the best weapon the service team has to recover customer goodwill. Beverage is the highest margin business in a restaurant/bar so therefore has the lowest cost of goodwill. For example a longer then expected wait to get seated for dinner becomes fun time when a round of drinks gets comp'd at a hard cost of $1-2 per drink/guest? But the key to winning this goodwill is the act of acknowledging the mistake and corresponding gift, so when the server announces it and the manager swings by to also acknowledge the mistake and the gift, the guest ends up feeling more special then they might otherwise have, if no problem had occurred. And casual observers are not bothered.
It's a myth that free drinks will cause someone to stay longer or increase the net tip amount for the bartender. But a free drink is a great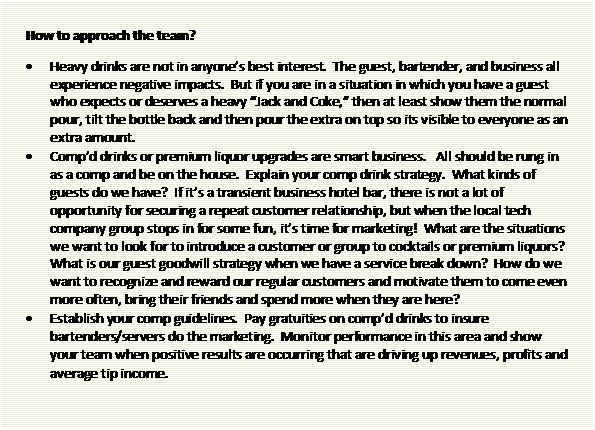 way to have someone try a specialty cocktail or premium liquor they might not otherwise order. To win a repeat customer by introducing them to a cocktail they will remember and want to come back for, or a premium liquor upgrade, is smart business if the guest has that potential. Changing the ordering profile of a group of guests with a well timed cocktail to sample or premium liquor upgrade, can double the beverage yield on a check. It's a marketing tool and everyone wins when a repeat customer is secured or guests order higher end beverages. It's also important to spotlight the goodwill action. In situations where no comment is made about a comp by service staff, most customers think it was an unconscious mistake. This means there is no goodwill result. The customer just looks at it as their lucky day. And customers rarely say anything either, not wanting to risk their unexpected windfall. So make it clear.
There is also upside to free drinks for regular customers. Given the desire not to upset other customers sitting nearby with a big announcement, these should be discreetly handled. The customer relationship affect is much like other frequent customer programs. Offering a regular guest a chance to try an upgraded liquor is often equally rewarding to the customer in terms of acknowledgement, but actually can still have a positive impact on the bottom line. It's a thank you where the cost is still covered and there is upside for moving the customer up to a higher yield ordering preference.
Finally does a bartender who visibly gives away a free drink in a regular customer situation, benefit more by saying its "on him/her" or "on the house?" The study showed it does not matter in terms of guest perception of being treated special or in terms of a tip % decision. Some guests like to see the special treatment as being a comp, which means "on the house," so they don't feel pressure relative to the situation and or the tip. But all guests view their bartender or server as the person they have a relationship with in the venue. They are the giver. And a comping approach (i.e. its on the house) simply extends the special treatment to the business, which has no downside for anyone including the bartender and actually empowers the server/bartender in the eyes of the customer.
The average tip of a customer who felt they got a special liquor value (heavy drink or free drink), was the same as the average tip of a customer who did not feel they got a special liquor value, but did feel the bartender/server was personable and made their visit to the bar a better experience. So there is no bartender incentive to over pour or give a drink away. But, a well organized drink comp and premium liquor upgrade program can drive significant customer goodwill improvement, higher beverage check averages and higher guest counts over time.
The path to the biggest tip result is to pour drinks to standards, not give away any free drinks unless it is part of a comp strategy, and create a sense on the part of the customer that you are interested in their having the best time they can during their visit to your establishment. No one wins when the drinks are over poured or given away by a bartender in search of a bigger tip. From a bottom line perspective, that is the perfect bartender.