A Picture is Worth a Thousand Words
A Picture is Worth a Thousand Words
In 10 seconds can you describe what kind of guest experience I can expect in your hotel bar? On the internet that's how much time you have when someone visits your website. It took 6 seconds to read that sentence – you have 4 seconds left…. No wonder effective digital marketing strategies focus on pictures and video to get their messages across. But not all pictures are the same. Some speak more clearly and with greater appeal then others. Walk through the pictures below. Which bar looks like the right place to go at the end of a business day, with friends or business associates who may or may not stop by?
Which one would you pick? Your answer defines what market segment you fall in. Maybe your answer might depend on what day, time or circumstance you are in. But each one of these picture makes it clear what the intended guest experience will be. That is because a picture is worth a thousand words.
Now look at your F&B venue page on your hotel website.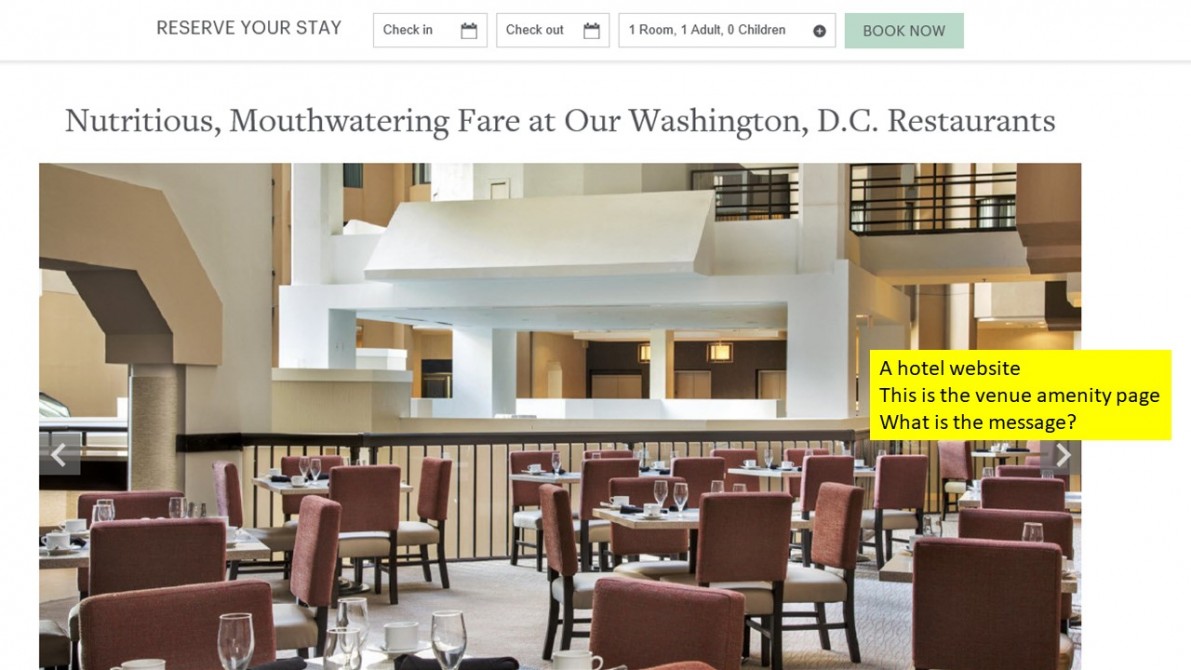 If you are lucky maybe you actually have an independent website presenting your F&B venue on the internet. Regardless – look at the picture. Is it clear? Does it speak without words about what I can expect? Maybe it's a picture of an empty bar with dining tables and bar stools like the example to the right. Maybe it shows a picture of a burger or a fancy cocktail.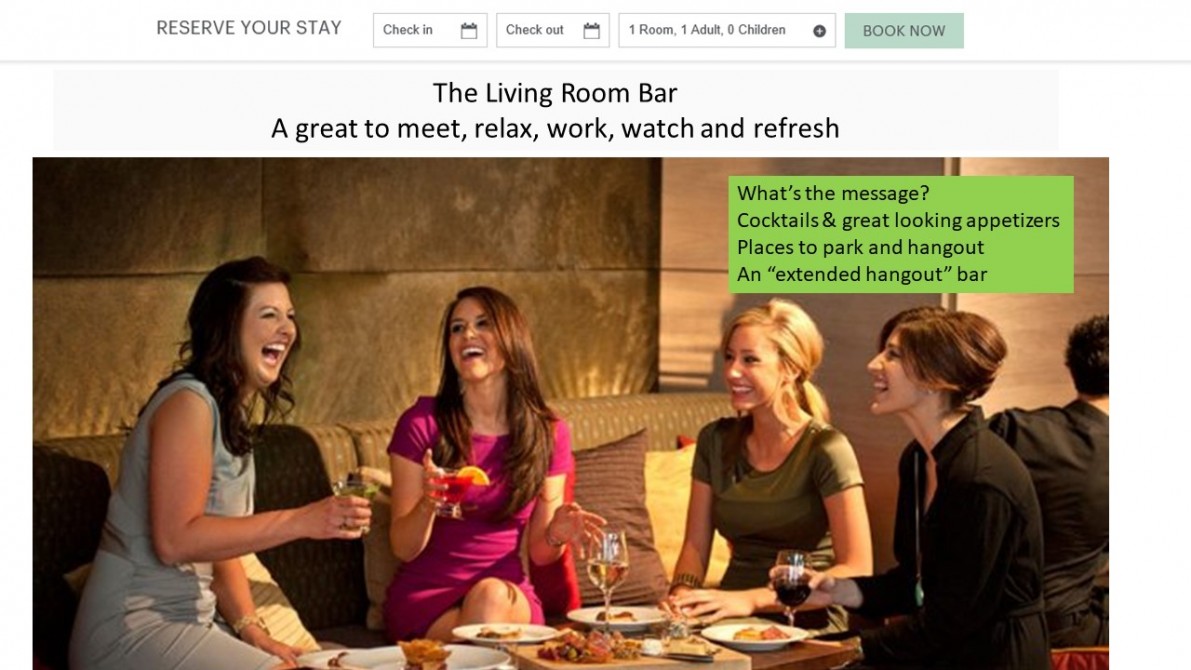 Maybe it looks cool and edgy, but so what if it does not explain who you are? And what if we just changed the picture and the label so it looked like this? In 10 seconds or less do I know what to expect? Does it fit what I am looking for? Which picture is going to get you more hotel guest and non hotel guest visitors?
Who Are Extended Hangout Customers? (Click here) Extended Hangout Customers
SBS routinely does Digital Marketing Assessments for hotel clients. The goal of the Assessment is to understand where an F&B venue is positioned from a product perspective in the market and assess what you are doing right and not so right relative to filling that venue with target customers. In most cases the messaging is very weak when it comes to internet visits from potential non hotel guest customers. So don't feel bad if your bar amenity page on your hotel website shows an empty bar with tables and chairs. That's what everyone else is doing too?
Go back up to the pictures above and decide which one is your bar? Then compare that choice to what you have on your F&B venue landing page. Then search on google for images of your bar and you will likely find pictures posted everywhere on social media, review sites and even your own website gallery. One will say everything that needs to be said about what you are offering. Yes I know the corporate marketing folks say no pictures with people in them. Yes I know you have no chance of influencing how your current digital marketing assets (website, Facebook, twitter, etc.) look. Yes I know your owners will not increase their annual contribution amount to the hotel marketing budget, that they view marketing budgets as a black hole into which they are forced to deposit lost profit. But there is a way!
The Way
Create a new digital billboard for your F&B venue. Don't try to change your hotel website. With the right partner and $3-5K you can have a landing page that gets you in play when someone goes to their phone or tablet to figure out where they are going to go.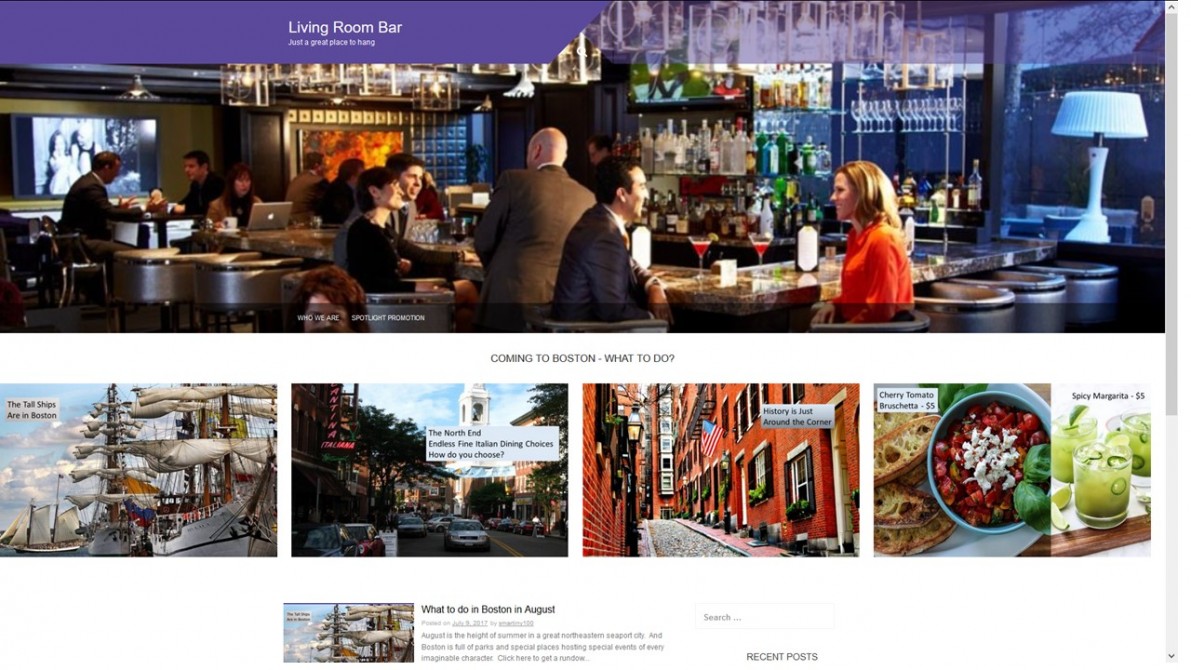 Make sure the picture sends the messages you want to send. In this example:
Someone working on their laptop at bar
Different types of huddles – social, business, etc.
Lots of park spaces
TV's to watch
Cocktails and appetizers
No paragraphs to read, but some interesting content that might motivate me to click through and or do a share
A spotlight promotion item featured in the content area – a great product at a great price that you have got to stop by and try
You could have this kind of landing page up for your F&B venue in 30 days! The hardest part is defining and writing the content. In this case the content is part of an internet marketing strategy to bring visitors to the page and to drive click throughs by visitors who will give you a connection in return for interesting information. Behind the scenes the landing page setup is working to have your page come up based on various search triggers that the customers you want to reach are using. In this example the search triggers would be focused on pushing the content items to transient visitors who are not looking for a "bar near me," but exploring things to do during their trip. There is no better way to create awareness and a connection. And you go right around the lists (Yelp, Trip advisor, etc.) who will always dominate the "bars near me" pages anyways.
Then you spend some outbound marketing dollars pushing your content out to potential consumers who would be in your strike zone. Imagine after I have booked my flight to Boston using Kayak or other internet portals, the next time I load MSN or my Facebook feed, up pops an ad offering up an article on "What to Do in Boston in August." If I make the click, you have a connection with me. And if you have a product in my strike zone based on the picture, you will likely see me as a customer.
Effective digital marketing is not actually very hard, nor expensive when you use picture based messaging and a content marketing strategy. For most clients, who have the right product position and are not getting non hotel guest traffic, a one-time $15-25K spend will get you 50 more customers a day. That translates into $1M in incremental annual F&B revenue in your bar. In addition once the engine gets started, it fuels itself as word of mouth kicks in to bring more and more non-hotel customers in the door. You don't have to keep spending big dollars every year. It truly is a one time capital investment to build the business, no differently than any other capital investment you would make into the venue to improve results.
Tags: bar consulting, beverage control, strategic beverage solutions
Trackback from your site.