Is Your Hotel Bar Under Performing?
What should my hotel bar be generating in terms of F&B revenue? Are we maximizing our revenue opportunity?
Status quo is the path of least resistance when it comes to setting next year goals for most hotel bar operations. But what if you feel your bar is underperforming? How do you convince your management team to take on a performance improvement objective? Try looking through a new numbers window. You won't find this metrics in your monthly P&L, but there is an easy way to assess your bar results when it comes to maximizing hotel guest customer capture – Beverage $ Per Room Night (B$RN).
In the example below the hotel is hitting a $4.95 B$RN. (see www.B$RN-How-is-your-hotel-bar-doing?.com) This number should be in the $10-$15 range. The property is not offering an effective hotel guest bar venue. (see www.Living-room-bar-concepts-A-winning-formula-for-hotels.com) An Assessment spotlighted the opportunity – (see www.Assessment-Case-Study.com ) and delivered a Playbook recommendation. – (see www.Playbooks-A-Change-Management-Strategy-For-Hotel-FandB.com ) A Playbook Task Force was engaged. – (see www.FandB-Task-Forces-Not-Just-For-New-Opens.com ) Now the hotel is on its way to a 2x revenue results improvement.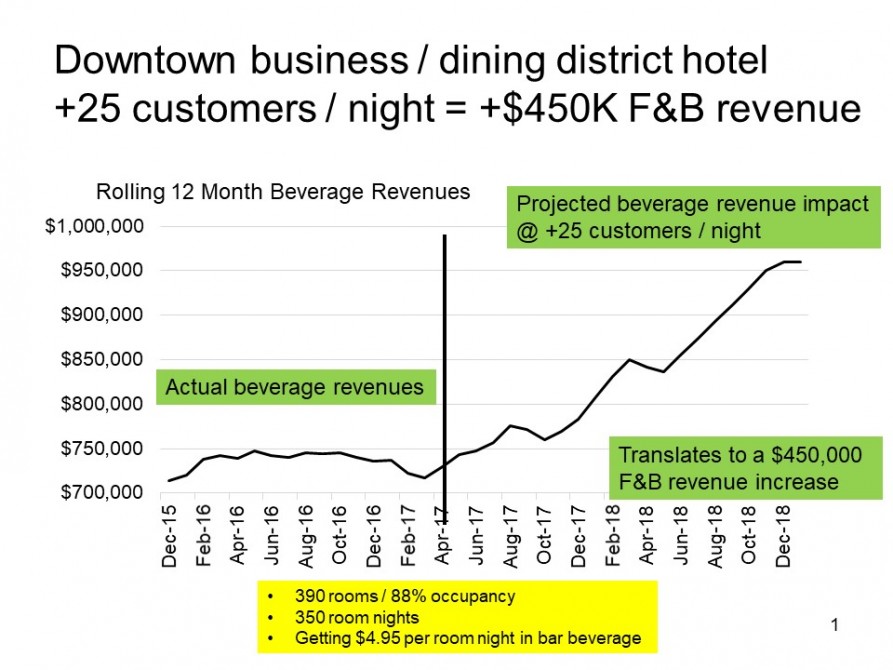 If you have strong non-hotel guest business traffic in your bar, the B$RN metric will be less meaningful relative to scoring how well you are doing in maximizing hotel guest post 4pm F&B revenue capture. For example a hotel was running a very successful late night active lounge and then added a rooftop pool bar venue that brought in a new end of business day nonhotel guest revenue wave. They were hitting a $21.58 B$RN ratio. But if you only look at
Post 4pm F&B Venue Room Charge $ per Room Night
, their ratio was $3.24. This metric tracks both food and beverage revenues charged to guest rooms during post 4pm meal periods. The target range in this case should be $16 – $24. Conclusion – The F&B venue setup was not interesting to hotel guests. And not having an interesting option for hotel guests was causing them to miss a $1.6M F&B revenue opportunity given it was a 356 room property. So what did they do? They added a third lobby bar venue and are on their way to capturing that revenue opportunity.
Trackback from your site.