F&B Task Forces – Not Just for New Open Situations
Using a Task Force Strategy in Comprehensive F&B Change Projects By: Scott Martiny
You have
a huge business growth opportunity in your hotel bar. The key to growth is refocusing the operation on the intended target customer experience – extended hang out customers. (see www.Extended-Hangout-Customers.com) You have score carded the operation. (see www.Scorecarding-Your-Hotel-Bar.com). That scorecard documents a comprehensive change mission that cannot be done piecemeal. You have the mission defined in a Playbook. (see www.Playbooks-An-F&B-Change-Strategy.com) But the action steps defined in that plan are an impossible workload for an already busy property F&B management team. In addition you know in many areas the expertise required to get each action step done correctly and efficiently is beyond the local team.
Management companies have had a strategy for years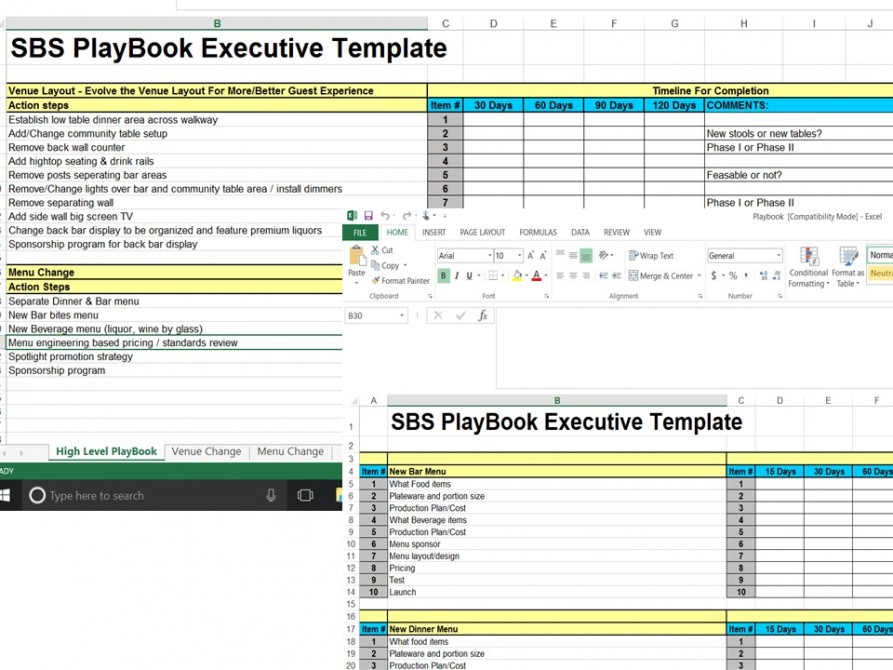 on how to deal with short term management workload challenges – they call them task forces. You take solid F&B managers out of properties where things are tracking as expected, and vector them in as a group into a situation which requires attention. This strategy is typically used in new open situations. But a version of this strategy also works in a Playbook situation as well.
You can make being part of a Playbook task force,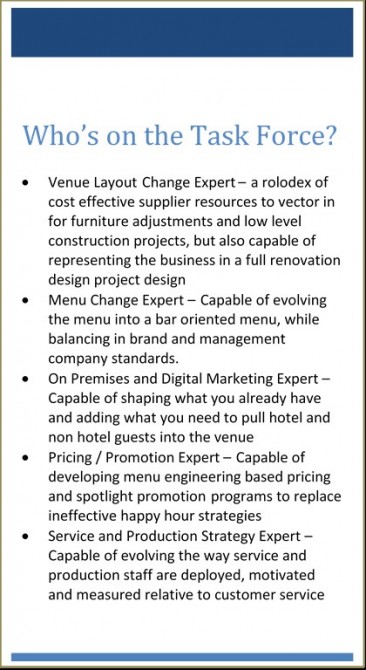 like being part of a special forces team. Increased pay or results bonuses, recognition and a chance to position for promotions, are strong motivators for participation. You assemble your Playbook task force team based on demonstrated expertise. The task force does not have to emerse themselves in the property and therefore fully abandon their existing role. Property visits are critical, but a lot of work and monitoring of progress can be done virtually. But because they are part of the management company F&B team, they have both credibility and a superior influence position on an existing property team – versus sending in outside consultants.

Obviously this kind of strategy requires a corporate commitment to a Playbook program. Task force members can even be trained to go in and do the Assessments (see www.Assessment-Case-Study.com), create the scorecards and write the Playbook. One of the advantages, however, of using an outside consultant such as SBS to produce the scorecard and playbook plan, is that the task force then is not part of the process of pointing the finger at necessary change, but there to help make it happen.
Task Force strategies allow multi-property management companies to execute dramatic business improvement projects without hiring expensive corporate overhead resources in properties where F&B opportunity post 4pm is being missed. In addition this kind of task force strategy creates a sharing of ideas and experiences that is invaluable for the development of the company culture and the entire team. Finally this kind of strategy positions the management company to make a case to ownership in a new property opportunity, that you are uniquely positioned to produce business improvement in the F&B component of the hotel operation. There are property situations where a destination or active lounge focused management company is the right choice, but in the vast majority of full service hotels most owners would prefer a high profit non brand oriented extended hangout customer bar. (See www.livingroom-bar-concepts-a-winner-in-hotels.com ) Yet they know that traditional hotel bar/restaurant venues are often very far away from achieving their potential. Being a strong hotel bar results team is a reason why you get the management contract versus someone else.
Trackback from your site.