Is Now the Time?
ROI projects have completely disappeared from 2023 plans of most Hotel GM's and their investment partners.  An anticipated recession lies ahead along with the double whammy of rising interest rates.  All this means cash is king.  There is also little confidence a hotel will have the team or time to focus on an ROI project anyways.  No matter what the ROI, investing capital in a long-term ROI project is not making sense. 
Vendors have had to adjust.  "We now focus on generating immediate and significant positive cash flow," said Scott Martiny CEO Strategic Beverage Solutions Inc, "We have had to make adjustments:"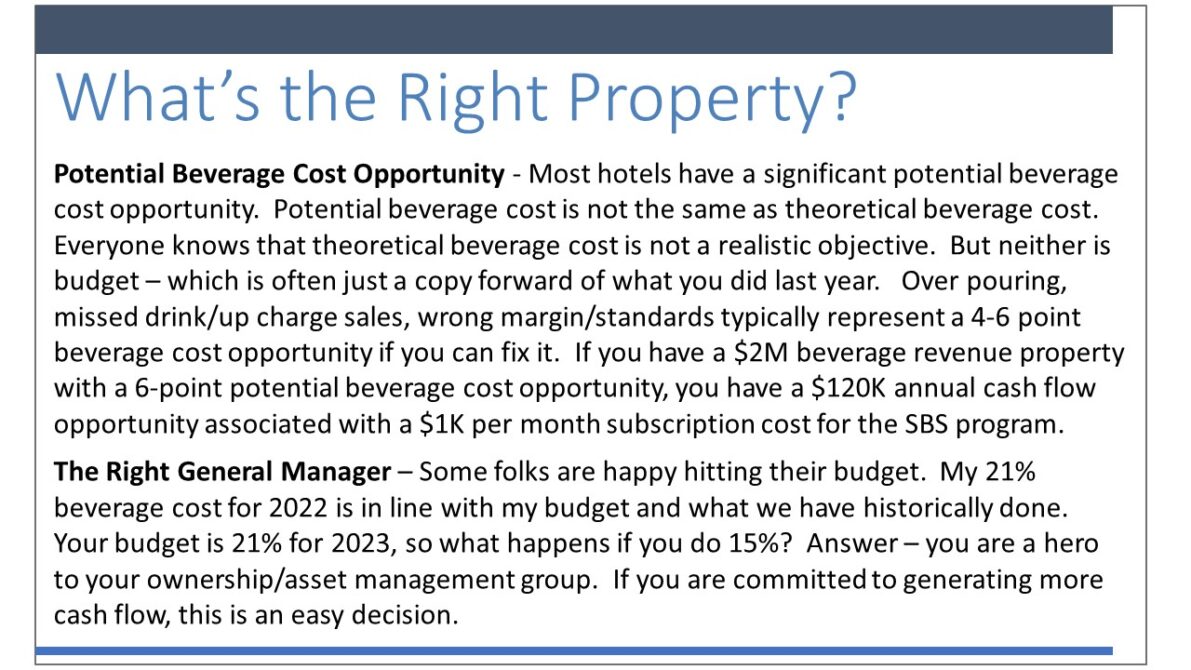 A Subscription Program – no up-front capital spend 
Focus On Right Properties
A task force strategy – we swarm the property with focus in the first 60 days to get to the potential beverage cost target
Paul Leclerc, Managing Director at The Langham Huntington, Pasadena shared, "We partnered with SBS in a coaching program in which they took responsibility for going after a beverage cost reduction and revenue improvement goal.    Not only did we generate a $30+K per month positive cash flow result for our ownership, we did this over a two-year period in which we had 6 different unit managers because of turnover issues." 
Scott Ostrander, GM at Kona Kai Resort & Marina said, "SBS brings both technology and talent to the project.  We went from 21% beverage costs to running 14's every month.   The net cash flow impact for us is +9K per month on average.   SBS has an incredible level of focus applied at the outset and a cost-effective monitoring program that we use to insure we stay on track once results are achieved.  We went through a complete turnover of our bar team and 3 different unit managers in the last year, and never lost ROI Result position."
Strategic Beverage Solutions has been partnering with clients for over a decade helping to maximize revenues and lower beverage costs in hotel bar operations.   Scott Martiny, SBS CEO explained, "Today owners need cash flow improvement and looking to get it from properties which are in position to over perform.  That's where we are focused.  The GM's and their teams who deliver those cash flow windfalls are truly the heroes."
Trackback from your site.