B$RN How Is Your Hotel Bar Doing?
Beverage Revenues Per Room Night – A New Way to Assess Your Hotel Bar Potential By: Scott Martiny
Here comes your monthly property P&L. Total F&B revenues, maybe broken down by venues versus banquets. Hopefully a breakdown of beverage versus food and likely a comparison to last year and budget (a budget which did not likely have a lot of planned revenue growth). If you are a multi property oversight executive, maybe somewhere along the way you noticed, hotel A does 3 times as much F&B as hotel B even though it's hard to separate them from a market position perspective? Then when you try to make that point to a property team you hear all the reasons why the comparison is not valid.
Well now there is a way. Strategic Beverage Solutions Inc. has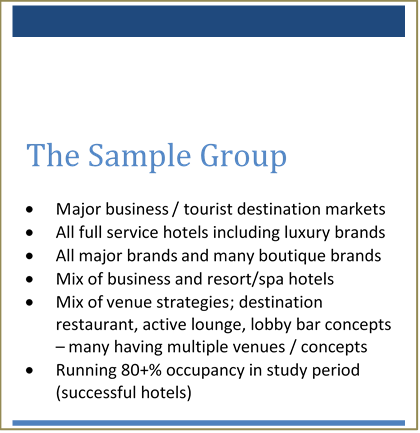 engaged with over a thousand hotels in understanding their bar performance position. That's a lot of data combined with a lot of observation and specific understanding of property situations. Along the way we developed a way to universally evaluate how well a venue is doing relative to its opportunity. Venue Beverage Revenues per Room Night (B$RN) answers the question – how well does our hotel bar/restaurant attract end of business day hotel and group guests?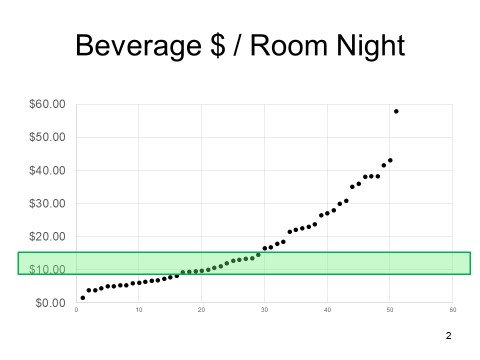 95+% of your alcoholic beverage revenue in a venue comes in post 4pm, so it truly isolates how you are doing in terms of attracting post 4pm hotel and group guests into your venue. If there are situation variables that can artificially effect the metric, there are secondary ways to answer the question in those situations – are we successfully attracting F&B contribution from our hotel and group guests after 4pm?
The charts represent a sample of 50 hotels and how they scored in their B$RN. A good B$RN is calculated to be $10-$15. (see www.Is-Your-Hotel-Bar-Underperforming?.com) This means you are effectively getting one alcoholic beverage sale for every occupied room per night. The average number of drinks consumed by an end of business day venue guest is 2.7. So another way to look at the target B$RN is that you are getting one out of three hotel room guests into your bar per evening.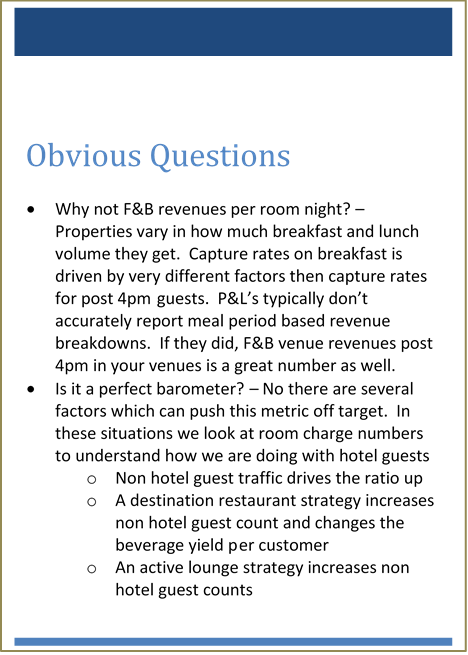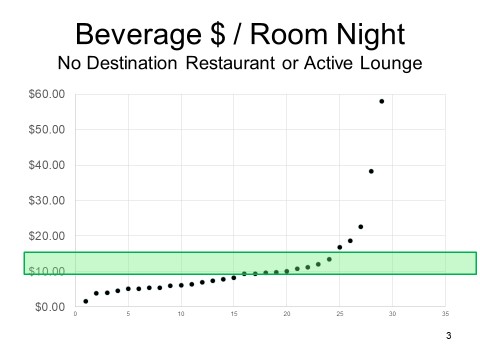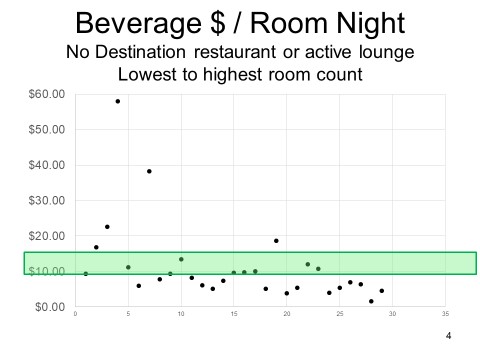 What does a hotel guest or pre/post event group guest want? (see www.Extended-Hangout-Customers.com ) We know what they don't want. They don't want a destination restaurant. They don't want an active lounge. An end of business day customer wants a place to hang out, eat some apps, have some cocktails, watch TV and work. A pre/post event group guest will want the same things, accept to open up the laptop and work. Even an end of tourist day guest will go for the same experience. To the extent you are offering that product and capacity to experience it, directly affects your B$RN. (see www.Living-Room-Bar-Concepts-A-Winning-Formula-For-Hotels)
Interesting Observations
The highest performing hotel was an extended hangout customer venue. The $57 B$RN rating was driven by end of business day non hotel guests who also flocked into the venue.
The impact of getting all of the hotels below the standard (20 hotels) up to the standard would yield $15M in incremental beverage revenue and a projected $25M in total F&B revenues. The average number of rooms in these hotels was 462. Only 47 more customers in the bar per day at each hotel to hit that target.
The positive impact on B$RN of destination restaurant and active lounge concepts was clear, but in actuality most of those hotels did worse than their peers in terms of hotel guest traffic.
More than 50% of the lobby bar only sample group did not hit the minimum standard.
There was no correlation between room count and B$RN. Size of hotel does not influence the ratio.
Properties in or above the target range did much better on their extended hangout customer scorecard – then those that did not. (see www.Scorecarding-Your-Bar.com)
The average $ per hotel guest customer was $71. Average number of alcoholic beverages consumed – 2.7
Trackback from your site.