Driving ROI Results with Beverage Monitoring Solutions
Driving ROI Results with Beverage Monitoring Technology
By: Scott Martiny (May 2012)
Five years ago Beverage Monitoring Technology began to get traction in the hospitality industry. Early products were expensive, clunky looking and had survival issues; yet proven business impact was possible even with these early products. In the end ROI Results scorecards on these systems were inconsistent. Great successes and unfortunately just as many "no results" stories have been told. The key then and today is having a solid integration with POS, and surrounding the technology deployment with the right consulting services package that insures success.
The Technology
Beverage Monitoring Technology (BMT) stands apart from traditional portion control solutions because the technology does not try to control a pour and stop the pour at a preset limit. In a bar operation with BMT, bartenders pick up bottles and pour drinks the same way they did before the system was installed – it is a free pour solution. This type of technology does not stop a bartender from over pouring a drink or giving a drink away for a special customer. But it does record those events and provides management with a way of spotting these events after the fact. The effect is very much like putting cameras at intersections. Cameras don't stop drivers from running red lights, but their presence and the inevitable risk of getting a traffic citation in the mail causes a change of behavior in most drivers.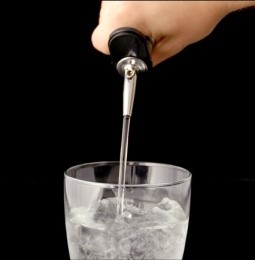 There are a wide range of products available. Most common are RFID embedded liquor spouts and draft beer tap devices that record pouring activity. Early versions of these products were clunky looking and poured slowly, but newer generation products are now almost invisible to the customer and pour at normal pour speeds – a key goal of most bar operators. Some products utilize devices attached to bottles as they come into inventory. These bottle tracking systems link with inventory management tools that include purchasing, receiving, transfer management, and ongoing physical inventory management tools. There are options available for draft beer that utilize beer line embedded flow meters that monitor pouring behavior. Flow meters also monitor system health issues that can have a major yield impact on draft beer inventory. There are even options today for monitoring wine by the glass systems. And these products can be purchased or subscribed to in monthly fee sales models.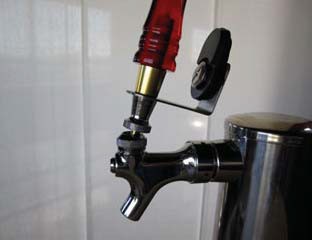 Getting ROI Results
The key to getting ROI results is simply insuring staff know the technology is installed (i.e. that the cameras are at the intersection), recognize that management is now seeing the over pours and free drinks, and that management is committed to having conversations about these situations (i.e. somebody will see the red lights being run and send out the traffic citations).
POS integration is the Achilles Heel of many of these BMT solutions. There are multiple standards for different types of drinks (i.e. a Tanqueray Tonic calls for a different pour amount then a Tanqueray ROX or a Tanqueray Martini). Specialty cocktails call for lots of combinations of liquors. If you can't link what was specifically sold directly with what was specifically poured, these systems are hard to use.   While all products tout POS Integration, a common factor in No ROI Results stories, is an unusable POS Integration module. This means that simple interfaces will not work and even when the necessary functionality is there, only a very careful setup approach will allow you to get traffic citation caliber data.
The number one driver of ROI Results success is the services program built around deployment of the BMT technology and ongoing use of it. These products require very little ongoing technical support – they work. When there are issues, a down system does not impact the operation (i.e. unlike a POS system not working). But the traditional industry approach of placing the burden on the customer to configure the system will not work in a BMT project. Over burdened managers do not have the time or skills to set these systems up in terms of configuring the hardware and configuring recipes. The best ROI Results happen when the vendor assumes complete responsibility for setting the system up for the customer.
Over burdened managers also don't have time to learn or even use the tools and inevitable management transition also creates a high probability that a BMT tool will either never be effectively used or fall into disuse after initial success. The best ROI results happen when a vendor takes responsibility for delivering the citation situation information to managers on an ongoing basis. The manager's role is to go talk to bartenders about stuff that has happened and not to wrestle with the software. In addition because of the constant state of evolution in drink menus, standards and even POS setup, the vendor should take ongoing responsibility to not only monitor the system health of the BMT technology, but also handle the ongoing configuration changes. Then the project has maximum ROI potential.
The Results
A successful BMT project will typically drop beverage costs by 16-18%. For a bar running 25% beverage costs this equates to over a four point beverage cost drop. Two factors drive this result. Bartenders, who now pour consistently and pour to recipe standards, pour less liquor then they did before for the same revenue result. In addition free drinks which now become revenue, drive the revenue result up without any incremental beverage inventory cost – hence lower beverage costs.
The good news is that the cost of BMT systems is dropping. A liquor spout and draft beer tap monitoring system covering 60 bottles and 4 draft beer taps typically runs for $10,000. That means in a $500K per year beverage operation the payback on the technology is less than 6 months.
Case Study – Kimpton Hotels
Kimpton Hotels is a well known and respected hotel operator that specializes in successful restaurant and bar operations in their properties. They had been working with a number of BMT systems for a couple of years and recently made a decision to deploy a standardized BMT solution across their entire portfolio of bars and restaurants. They had experienced mixed results in their early projects, but the successes dictated it was worth figuring out what the right solution was, and deploying it across the brand.
John Inserra, Senior Vice President, Restaurant Operations….. "Our chosen vendor was focused on producing ROI results. There was no question in our mind that the right technology and services approach would in fact produce a significant ROI for the ownership interests at our properties."
Key elements in their success formula
1. Technology had to be free pour and not interfere in the bar operation
2. Product had to be invisible and not look to customers like a control technology
3. POS integration tool had to work with their complex and diverse Aloha POS menu setups
4. Vendor had to handle all aspects of configuration and installation
5. Vendor had to have an ongoing ROI results partnership with each property team